| | |
| --- | --- |
| H.E.R.O. | |
| Play the classic game on your PC for free! | |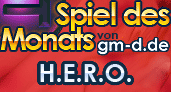 Award as game of the month 03/2011

Information about this Game
PC-Version of the classic game H.E.R.O. (TM), which is original
designed by John van Ryzin and published by Activision in 1984.
This remake is based on the Atari-XL version and was completly new programmed in 2011.
There is no Atari-XL emulator behind!
My goal was to create a nearly 100% remake of this game and i hope you like it.
Unfortunately, I have no permission from Activision to use their original Rainbow-Logo from 1984.
Therefore, this was exchanged to the RetroVision-Logo.
My thanks go to the designer of this: kevb0ard

This game is freeware!
If you like this game, please make a donate of your choice via PayPal.
-------------------------------------------------------------------------------------------------------
October 2017

I'm working on 20 new levels and I hope, that I finish this in November 2017.
So, the unofficial version of "H.E.R.O. 2" is appears after over 30 years :-D


v0.98 - 16. July 2014

+ Added joystick support
+ Hide mouse cursor in fullscreen mode

v0.97 - 24. May 2012
Exactly one year later, a new update is available!
+ Highscore table now in classic retro style
+ Question boxes now in retro style also
+ Game name change from "HERO" to the original "H.E.R.O."
+ Bugfix: In some cases, HERO could climb up the walls
+ Bugfix: In some cases, HERO could jump through stone pillars
+ Some small fixes
v0.96a - 24. May 2011
+ Now possible to start the game in fullscreen with "Hero.exe -fullscreen"
v0.96 - 14. May 2011
+ Free sizeable window
+ Fullscreen mode
-------------------------------------------------------------------------------
Keyboard commands:

F1
F2
Shift + F2
F3
F4
F5
Cursor keys left/right/up
Cursor key down
Left Control
P
ESC
Spacebar

- Show information screen
- Show the table of highscore
- Clear the table of highscore
- Change difficulty
- Restart game
- Switch between Fullscreen / Window mode
- Moving the Hero
- Place a bomb
- Fire
- Pause
- Exit Game
- Start the game
---